Catalog Search Results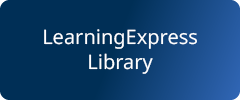 Whatever your goal, LearningExpress Library's resources will help you succeed. Each of the Learning Centers offers practice tests, exercises, skill-building courses, and information you need to achieve the results you want—at school, at work, or in life.
Test prep and study subjects include the GED, ACT, PSAT, SAT, U.S. citizenship, and career tests like the ASVAB, real estate, CDL, nursing, and many more.
"In Coyote moon, a typical night at the carnival becomes deadly as shapeshifters turn the amusement park into their own house of horrors. Buffy starts having past-life nightmares in Night of the living rerun, and must face her historic counterpart before the events of the past repeat in the present. In Portal through time, Slayers over the centuries are in danger, and Buffy must protect them in order to save her own life and legacy."--P. [4] of...
In Interlibrary Loan
Didn't find what you need? Items not owned by Huntsville Madison County Public Library can be requested from other Interlibrary Loan libraries to be delivered to your local library for pickup.
Didn't find it?
Can't find what you are looking for? Try our Materials Request Service. Submit Request