Catalog Search Results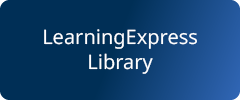 Whatever your goal, LearningExpress Library's resources will help you succeed. Each of the Learning Centers offers practice tests, exercises, skill-building courses, and information you need to achieve the results you want—at school, at work, or in life.
Test prep and study subjects include the GED, ACT, PSAT, SAT, U.S. citizenship, and career tests like the ASVAB, real estate, CDL, nursing, and many more.
"Buffy returns from the big city to find her friends have been battling the forces of evil without her. As she struggles to regain her mother's and her friends' trust, a new slayer named Faith arrives in town, quickly winning over all of Buffy's friends. But Faith's arrival is just the beginning of new forces Buffy must face. For a few nights later she encounters Angel, who has somehow returned, ferral and violent, from the hellish demon dimension...
"However, things are more than they seem as the cast gets a taste of the supernatural when real vampires infiltrate the audience. The Scooby gang must come together to learn actual slaying skills from Buffy to survive... because they're trapped in the show, unable to escape!."--Amazon.
Buffy is the chosen one to stand against vampires, demons, and the forces of darkness.
In Interlibrary Loan
Didn't find what you need? Items not owned by Huntsville Madison County Public Library can be requested from other Interlibrary Loan libraries to be delivered to your local library for pickup.
Didn't find it?
Can't find what you are looking for? Try our Materials Request Service. Submit Request