Catalog Search Results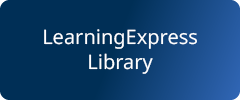 Whatever your goal, LearningExpress Library's resources will help you succeed. Each of the Learning Centers offers practice tests, exercises, skill-building courses, and information you need to achieve the results you want—at school, at work, or in life.
Test prep and study subjects include the GED, ACT, PSAT, SAT, U.S. citizenship, and career tests like the ASVAB, real estate, CDL, nursing, and many more.
Author
Appears on list
Luke Skywalker and the ragtag rebels opposing the Galactic Empire are fresh of their biggest victory so far -- the destruction of the massive Death Star. But the Empire's not toppled yet! Join Luke, Princess Leia, Han Solo, Chewbacca, C-3PO, R2-D2 and the rest of the Rebel Alliance as they fight for freedom against Darth Vader and his evil master, the Emperor! When a rebel assault goes wrong, Han and Leia must think fast to make their escape -- While...
Similar Searches
These searches are similar to the search you tried. Would you like to try one of these instead?
In Interlibrary Loan
Didn't find what you need? Items not owned by Huntsville Madison County Public Library can be requested from other Interlibrary Loan libraries to be delivered to your local library for pickup.
Didn't find it?
Can't find what you are looking for? Try our Materials Request Service. Submit Request