Catalog Search Results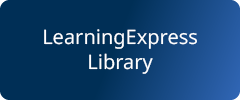 Whatever your goal, LearningExpress Library's resources will help you succeed. Each of the Learning Centers offers practice tests, exercises, skill-building courses, and information you need to achieve the results you want—at school, at work, or in life.
Test prep and study subjects include the GED, ACT, PSAT, SAT, U.S. citizenship, and career tests like the ASVAB, real estate, CDL, nursing, and many more.
Author
"November 23, 1963: a day that changed the world forever. That day saw the broadcast debut of Doctor Who, which was to become the longest-running science-fiction series on television. And now, 50 years later, we pay tribute to one of the greatest pop-culture heroes of all time with this special series, Prisoners of Time, which tells an epic adventure featuring all eleven incarnations of the intrepid traveler through time and space known simply as...
In Interlibrary Loan
Didn't find what you need? Items not owned by Huntsville Madison County Public Library can be requested from other Interlibrary Loan libraries to be delivered to your local library for pickup.
Didn't find it?
Can't find what you are looking for? Try our Materials Request Service. Submit Request