Catalog Search Results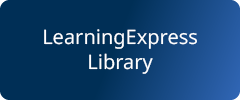 Whatever your goal, LearningExpress Library's resources will help you succeed. Each of the Learning Centers offers practice tests, exercises, skill-building courses, and information you need to achieve the results you want—at school, at work, or in life.
Test prep and study subjects include the GED, ACT, PSAT, SAT, U.S. citizenship, and career tests like the ASVAB, real estate, CDL, nursing, and many more.
Author
Accelerated Reader
IL: LG - BL: 2.5 - AR Pts: 1
Little Red likes to play by the rules. So when the narrator comes along and asks her to follow the story set out in her fairy tale, she grabs the basket for Grandma and goes. After all, she loves her grandma. But unfortunately, none of the other characters are quite what they're expecting. -- As Little Red attempts to follow the narrator's directions (which, frankly, seem kind of dangerous!), she is beset by fill-in characters, confusing instructions,...
Author
Accelerated Reader
IL: MG - BL: 2.6 - AR Pts: 1
Claiming he is tired of 'kid stuff', Peter Pan wraps himself in bandages and moves his friends to Mummy Land, but when Wendy points out that pretending to be something you are not is exactly what kids do, the Dust Boys decide to return to the real world with her--if they can escape from the skeleton Captain Hook.
Similar Searches
These searches are similar to the search you tried. Would you like to try one of these instead?
In Interlibrary Loan
Didn't find what you need? Items not owned by Huntsville Madison County Public Library can be requested from other Interlibrary Loan libraries to be delivered to your local library for pickup.
Didn't find it?
Can't find what you are looking for? Try our Materials Request Service. Submit Request