Catalog Search Results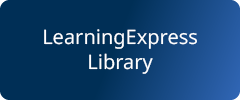 Whatever your goal, LearningExpress Library's resources will help you succeed. Each of the Learning Centers offers practice tests, exercises, skill-building courses, and information you need to achieve the results you want—at school, at work, or in life.
Test prep and study subjects include the GED, ACT, PSAT, SAT, U.S. citizenship, and career tests like the ASVAB, real estate, CDL, nursing, and many more.
Author
In a dark and dangerous future, the mutant-hunting machines known as the Sentinels rule America with an iron fist. Almost all mutants and superhumans have been exterminated. Only a handful of imprisoned mutants remain to fight against their oppressive robotic overseers! Now Kate Pryde, former X-Man, must travel back in time and warn her present-day teammates of the coming danger-and hopefully prevent this horrible future from ever taking place!
In Interlibrary Loan
Didn't find what you need? Items not owned by Huntsville Madison County Public Library can be requested from other Interlibrary Loan libraries to be delivered to your local library for pickup.
Didn't find it?
Can't find what you are looking for? Try our Materials Request Service. Submit Request