Catalog Search Results
Showing Results using Keyword index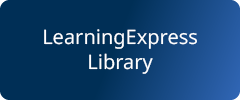 Whatever your goal, LearningExpress Library's resources will help you succeed. Each of the Learning Centers offers practice tests, exercises, skill-building courses, and information you need to achieve the results you want—at school, at work, or in life.
Test prep and study subjects include the GED, ACT, PSAT, SAT, U.S. citizenship, and career tests like the ASVAB, real estate, CDL, nursing, and many more.
Author
100% Recipes-0% Fluff-The Olsson Promise If you like tasty recipes, you've come to the right place-no fluff, just tasty dishes. Everybody is talking about celery juice. The basic recipe is simple: juice and enjoy celery. But what if that's not enough for you or doesn't taste good on its own? Tasty ideas with celery juice: Try out numerous tasty recipe ideas. Use a juicer, mixer and more to conjure up numerous juices and drinks in which celery plays...
In Interlibrary Loan
Didn't find what you need? Items not owned by Huntsville Madison County Public Library can be requested from other Interlibrary Loan libraries to be delivered to your local library for pickup.
Didn't find it?
Can't find what you are looking for? Try our Materials Request Service. Submit Request